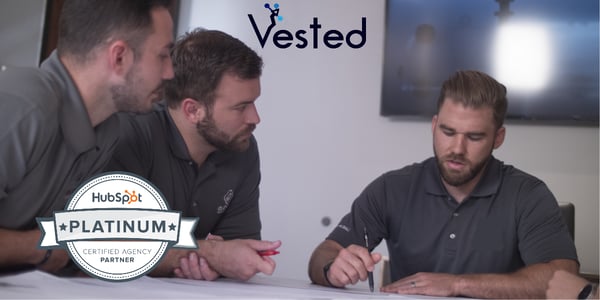 Vested Marketing is pleased to announce their recognition from HubSpot as a Certified Agency Platinum Partner.
Vested is one of the fastest growing HubSpot agencies winning the Rookie of the Quarter and achieving platinum partner status by solving for the customer and exceeding expectations in record-breaking time.
"This agency practices what they preach with a hands-on approach to strategy and execution."

- Jennifer Snyder, Principal Channel Account Manager, HubSpot

Of the announcement, Sam Hirbod Principal Channel Consultant for HubSpot said,
"We are thrilled to welcome Vested Marketing to HubSpot's Platinum Partner Program. Their savvy, sophisticated, and innovative approach to inbound makes them a company that businesses everywhere can learn from. Watching them transform their Agency with inbound has been a rewarding experience!"
Vested began in early 2018 and had quickly proven its worth using the inbound marketing methodology to provide insight to dozens of other companies. Vested employs inbound marketing strategies to assist with:
generating leads
blog posting
as well as the utilization of social media
Inbound marketing is about creating valuable experiences that have a positive impact on people and your business. We do that by attracting prospects and customers to your website and blog through relevant and helpful content. Once they arrive, you engage with them using conversational tools like email and chat and by promising continued value. And finally, you delight them by continuing to act as an empathetic adviser and expert.
Unlike outbound marketing, with inbound marketing, you don't need to fight for your potential customers' attention. By creating content designed to address the problems and needs of your ideal customers, you attract qualified prospects and build trust and credibility for your business.
About HubSpot
HubSpot is a leading growth platform. Since 2006, HubSpot has been on a mission to make the world more inbound. Today, over 48,000 total customers in more than 100 countries use HubSpot's award-winning software, services, and support to transform the way they attract, engage, and delight customers. Comprised of Marketing Hub, Sales Hub, Service Hub, and a powerful free CRM, HubSpot gives companies the tools they need to manage the customer experience from awareness to advocacy.

HubSpot has been named a top place to work by Glassdoor, Fortune, The Boston Globe, and The Boston Business Journal. The company is headquartered in Cambridge, MA with offices in Dublin, Ireland; Singapore; Sydney, Australia; Tokyo, Japan; Berlin, Germany; Bogotá, Colombia; and Portsmouth, NH.
As a HubSpot Platinum Partner, we help companies like yours build a solid foundation to raise brand awareness, generate new leads and grow revenue. It's a combination of methods used across platforms that delivers the greatest results. Contact Us for your free consult!