8 min read
The Benefits of Having an ADA Compliant Website Widget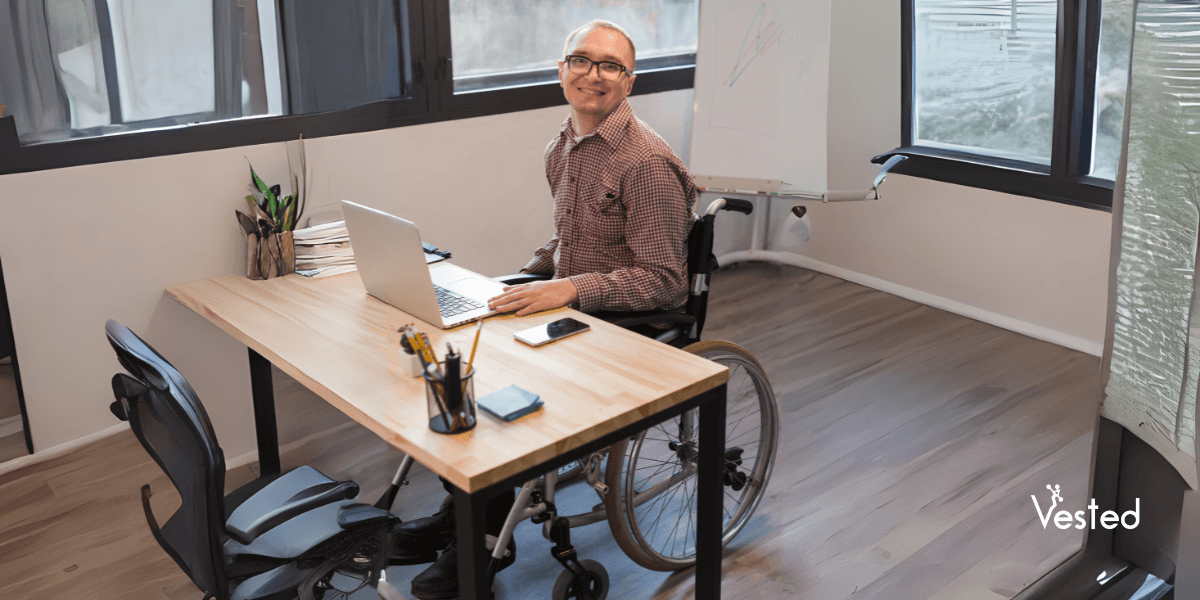 In today's digital ecosystem, creating an accessible online experience is a smart business move with multi-faceted benefits. A new automated accessWidget is leading the way with a robust ADA Compliant Website widget that not only opens your digital portals to all users but also ensures your peace of mind with comprehensive legal support. Here's a closer look at the advantages of integrating the accessWidget into your website.
What are the benefits of having an ADA compliant website accessWidget?
1. Legal Support Package Included
2. Client Success Representative Included
1. Legal support package included
When you choose the automated ADA compliant accessWidget, you gain more than a widget; you receive a full-fledged Legal Support Package. Should any legal concerns arise, our support extends from providing an accessibility statement and monthly compliance audits to comprehensive litigation support.
The accessWidget's legal support package includes:
Professional compliance audits demonstrating adherence to WCAG 2.1 level AA criteria.
Detailed compliance overviews to illustrate your website's conformity at the code level.
An accessibility statement default to your site.
Test results from leading industry tools, accessScan and WAVE, proving your compliance.
A visual accessibility feature map showcasing your site's accessibility features.
Documentation of your proactive measures, including your original purchase invoice.
A Violations Request Master template for a structured approach to any claims.
accessWidget's extensive legal research to inform your strategies.
A suggested response framework to aid in crafting replies with your legal team.
2. Client success representative included
Your journey to a fully accessible website is supported by a dedicated Client Success Representative. This person serves as your guide, ensuring your questions are answered, your implementation is smooth, and your website is aligned with accessibility best practices.
3. Tax credit available
Embracing accessibility doesn't just broaden your customer base; it can also be financially rewarding. The U.S. government offers a compelling incentive for businesses to become ADA compliant through the Disabled Access Credit, commonly referred to as the ADA tax credit.
Here's a closer look at how this tax credit works and how it can benefit your business:
Substantial Savings: Businesses that take actionable steps toward making their websites accessible can be eligible for a tax credit that covers 50% of eligible expenditures each year, up to a maximum of $10,250. That means a potential tax saving of up to $5,000.
Who Qualifies?:

If your business earned $1 million or less in the previous year, or
You employed 30 or fewer full-time employees last year,
you could be eligible for this tax credit.

Claiming the Credit: Eligible businesses must fill out IRS Form 8826 and include it with their tax return. This form captures the expenses associated with accessibility initiatives, such as the costs for the implementation of the ADA Compliant accessWidget, to qualify for the credit.
Incentive to Act: This tax credit is a compelling incentive for small businesses that may be considering making their digital content accessible but are concerned about the cost. It's an acknowledgment that the government values and supports efforts to make services available to all citizens, including those with disabilities.
Expenditure Coverage: The range of expenditures that can be covered is broad. They include the costs associated with barrier removal and alterations, fees for consulting services, like those Vested Marketing provides, and purchases related to making a website accessible, such as the accessWidget.
By utilizing this tax credit, businesses can significantly offset the investment required to ensure their website complies with ADA standards. It's a win-win: your business becomes more inclusive and accessible to a wider audience, and you receive financial recognition from the government for your efforts.
4. Reduces risk of litigation
By seamlessly ensuring your website meets a host of accessibility standards, the widget significantly lowers the chances of legal challenges that can arise from non-compliance. Here's a breakdown of the coverage you get, which acts as a fortress against potential lawsuits:
ADA Title III: The accessWidget helps businesses comply with Title III of the Americans with Disabilities Act, which requires all "places of public accommodation" to be accessible to individuals with disabilities. This extends to digital spaces, not just physical ones.
WCAG 2.1: The Web Content Accessibility Guidelines (WCAG) 2.1 are a series of recommendations for making web content more accessible. Following these guidelines is considered best practice globally and can help in defending against accessibility claims.
Section 508: Federal entities and contractors are bound by Section 508 of the Rehabilitation Act to make their electronic information and technology accessible. The accessWidget aids in aligning your digital assets with these requirements.
ACA/AODA: For those operating within Canada, compliance with the Accessibility for Ontarians with Disabilities Act (AODA) is critical. The accessWidget's features are designed to meet these standards, thus mitigating legal risks.
EAA/EN 301 549: The European Accessibility Act (EAA) and the EN 301 549 standard set forth accessibility requirements for products and services in the European Union, including websites. Adherence to these can be managed through the accessWidget's capabilities.
IS 5568: Israel's accessibility requirements are encapsulated within Standard IS 5568, which the accessWidget can help satisfy, making it a robust tool for international compliance.
With Vested, you're not just equipping your website with advanced accessibility features; you're also investing in a prudent legal risk management tool that stands vigilant in the dynamic arena of digital accessibility laws.
5. Technology included
From dynamic adjustments to content readability to navigational ease for all users, including those with disabilities, the automated accessWidget's technology is crafted to seamlessly blend into your website's fabric, enhancing accessibility without disrupting your brand's aesthetic or functionality. Let's explore the facets of this technology that set it apart as a leader in digital inclusion.
Customizable Widget:
The accessWidget is not a one-size-fits-all solution, but is highly customizable to fit the unique needs and brand aesthetic of your website.
Widget Features:
From contrast adjustments to text-to-speech functions, the accessWidget offers a comprehensive set of features to make your website user-friendly for all visitors.
Widget Benefits:
The accessWidget not only helps in making your website compliant but also enhances the user experience, potentially improving SEO and customer retention.
accessServices:
The accessWidget's accessServices encompass a suite of services aimed at making every aspect of your website accessible, including:
File and Media Accessibility services to ensure all content is consumable by everyone.
VPAT for disclosing your website's accessibility stance.
Expert Audits and accessWidget Inspection for a meticulous review of your website's accessibility level.
User Testing to garner real-time feedback from individuals with disabilities.
Harnessing Inclusivity for Broader Reach and Robust Compliance
Choosing the ADA Compliant Website accessWidget means investing in an inclusive digital future. It reflects a commitment to diversity, opens new market opportunities, and brings financial advantages through potential tax credits. Above all, it positions your business as a leader in a world where accessibility is not just a legal requirement but a key differentiator.
Make the strategic choice to enhance your digital accessibility, and let Vested guide you to a path of inclusivity and success. Contact us today for more information!
---

As a certified HubSpot Partner Agency, we not only understand the benefits of using the inbound marketing platform to increase traffic and engagement, improve SEO, generate leads, design effective websites and boost sales, we know how to make it happen.
We are inbound marketing experts, SEO gurus and top-notch website developers.
Our team of Engineers Turned Marketers can help get you noticed - for a more innovative and effective way to reach customers, or provide a more seamless way for companies to find your services. Inbound Marketing has no limit to industry, serving from Crypto & NFT, mining, oil and gas, technology & automation, engineering, technology, construction, healthcare, industrial & manufacturing, Cajun food & product distribution, Amazon sales, fast fashion, wholesale fashion and wholesale clothing.