10 min read
Digital Marketing in 2023: Trends to Watch This Year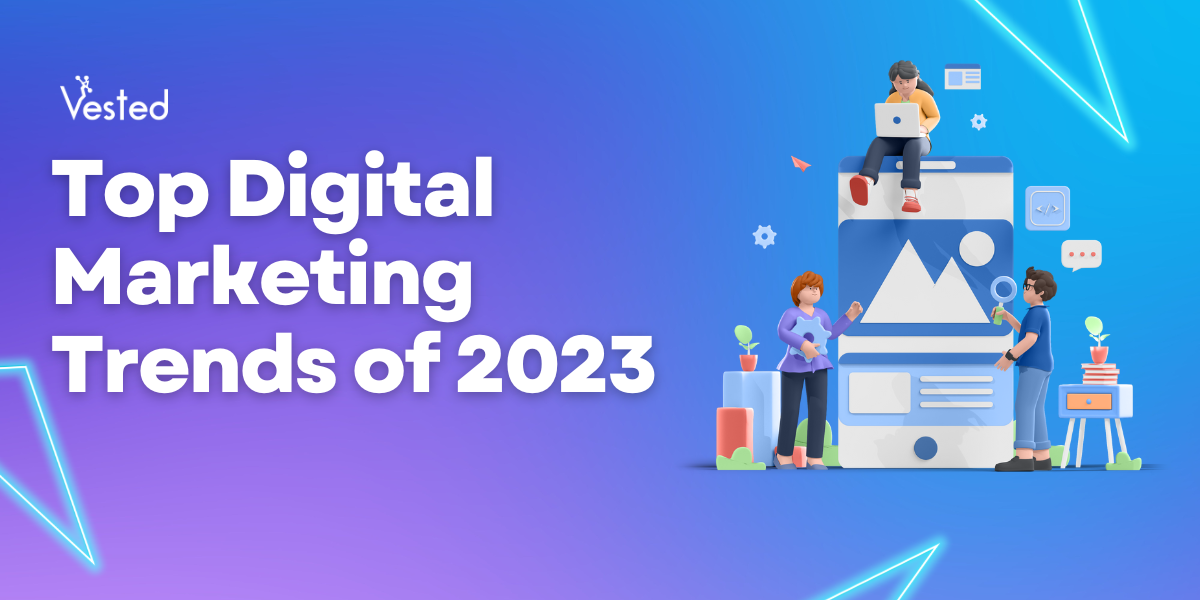 The marketing world is constantly progressing and changing, making it difficult for marketers to keep up with the trends. To stay current in this ever-evolving field, businesses need an edge that puts them in front of their competition. What trends in 2023 can help set you apart from the rest?
Top Digital Marketing Trends of 2023
Now more than ever before, staying ahead of emerging strategies and techniques will give organizations, like EGGRS, a powerful advantage when creating new campaigns in 2023; but what are these potential advancements? With our guide diving into all the latest trends within digital marketing — cut through visual clutter now and equip yourself for success later!
1. Content Marketing Trends
Influencer marketing will become a routine marketing tactic
In 2022, influencer marketing started to take off. It is predicted this trend is only going to continue in 2023 as 89% of marketers are planning on maintaining or increasing their investment next year; and 17% who hadn't tried it yet will be jumping into the mix!
Working with industry leaders can boost brand awareness even if you don't have enough budget for celebrity-level influencers - 56% of those investing already make use of micro-influencers instead. Micro-influencers offers higher reach potential, while having a fractional wallet cost compared to celebrities with millions following them due to their engagement numbers.
Marketers will keep videos short
2023 is shaping up to be a big year for video marketing, with an incredible nine out of ten marketers either increasing their investment or maintaining it.
As one of the most powerful content formats out there, short-form videos promise to play an even more important role in branding and promotion strategies moving forward. Short-form videos are becoming increasingly popular as companies learn to capture and engage audiences in a time of shortened attention spans.
Popular platforms like TikTok, Reels, and Snapchat have seen explosive growth among marketers looking for effective ways to get their messages across quickly without sacrificing quality.
Not only is the production cost less than that required with long-form formats — it's also an ideal way to pique interest while offering accessible chunks of information about products or services today's web users crave!
Blogging is here to stay
For years, blogging has proven to be a powerful marketing tool that delivers tangible results - with up to one-third of all marketers actively using it. Not only do blogs generate consumer engagement and potential conversions but they also enhance discoverability through search engine optimization (SEO). Research shows most consumers read brand blogs multiple times per week, frequently leading them towards purchase decisions as well.
Just a few simple clicks could be all it takes for your firm to gain new clients. A potential customer searching the web may stumble upon one of your blog posts, which offers helpful tips or strategies that make them realize how experienced and reliable you are - inspiring confidence in them enough to reach out and start doing business with you! Clearly, there are significant benefits for any business integrating blog content into their web presence!
Gain leads and brand credibility by providing case studies
Through case studies, prospects gain a comprehensive look into how products and services can truly revolutionize an individual or brand. While some companies freely publish these powerful narratives on their website to draw in potential buyers, others use them as exclusive content that requires customers to give up contact info before gaining access.
Surprisingly enough though, many marketers have yet to incorporate this marketing tool into their strategy - however those who are beginning would be smart: statistics show 37% of businesses plan to utilize cases study content for the first time this year!
2. Social Media Marketing Trends
Customer service tools will be vital for social media
With social media platforms creating new opportunities for customer service, it's no surprise that marketers are jumping onboard. In fact, over a quarter of them already use direct messaging to provide support and even more plan on joining in the next two years! As these channels continue developing their e-commerce capabilities, providing customer assistance is becoming an increasingly necessary part of business success.
Social media will continue to be used as a selling platform
As social media platforms increasingly become a go-to destination for shopping and discovering new products, businesses should pay attention! Recent studies have shown that the majority of Gen Z's (71%) and Millennials (51%) prefer to find their next purchase on a platform like Instagram Shopping or Facebook Shops. With this shift in consumer habits, companies need to reconsider where they're focusing their lead generation strategies if they want to stay competitive.
Secure brand interest with TikTok
As TikTok enters its fourth year of unprecedented growth and reaches over 1 billion users worldwide, it's becoming increasingly clear that the platform is not just for younger demographics any longer. 50% of Millennials reported visiting TikTok in the last three months along with 38% Gen X-ers according to HubSpot's 2022 Consumers Trends Report - a trend expected to rise even further as more brands tap into this powerful medium. In fact, 56% marketers who are already leveraging the app plan on increasing their investment in 2023. Now truly mainstream, one thing's certain: If you want your brand seen by Generation Z and beyond – get ready for some 'tikin'!
3. SEO Marketing Trends
SEO will continue to leverage your search traffic
In an ever-evolving digital landscape, SEO has become essential for businesses to stay competitive. As marketers are increasingly looking towards short form video and influencer marketing in the coming years, it's clear that SEO is still one of their top priorities when it comes to generating long term returns with online presence. Google algorithms have advanced significantly over time which makes this process more complex than simply using basic posts; brands require experts who can help them dig deeper into insights reports and optimize multimedia content accordingly.
Video and image SEO can't be forgotten about
Images and videos are becoming increasingly essential to SEO success! Recent data reveals that nearly half of marketers who use SEO strategies say optimizing images and videos is their most effective tactic, while 53% have implemented a dedicated strategy for both. Embedding keyword-rich related video content into blog posts, compressing files to improve page speed, as well as adding optimized alt text can all help boost visibility in search engine image or video carousels - unlocking the full potential of digital assets for higher rankings.
Gain search rankings by link-building
Link-building is an essential SEO tactic that can substantially boost your rankings on Google. Even though it requires dedication, research demonstrates its power - almost half of all marketers explore this method and more than 60% finds it the most successful approach in promoting their brand online. By forming connections with higher ranking webpages, you increase credibility for yours and position yourself ahead of competitors in terms of search engine authority; so if you want to reap maximum rewards from digital marketing efforts be sure to include link-building as part of them!
Optimize old web pages to get new traffic
As marketers look toward more efficient methods of generating new ideas, many are taking old content and breathing fresh life into it. By updating existing information with relevant keywords, statistics and links as well as repurposing the material for podcasting or blogging purposes - a quarter of SEO practitioners have found success in optimizing historical data! Nearly one-third report that this is an effective search engine optimization (SEO) strategy to leverage.
4. AI and Automation Trends
Chatbots will continue to automate your customer service
With customers' expectations for a quick response to their inquiries continually growing, it's becoming increasingly difficult for teams to meet these demands. Luckily, 40% of marketers are leveraging chatbots, with the help of artificial intelligence, as an automated way to provide the speedy replies that consumers desire - making humanly-impossible turn into reality!
Chatbots are revolutionizing customer service with their automated assistance and personalization. Designed to understand complex requests, these bots provide an effortless 1:1 experience that surpasses the capabilities of human reps - saving customers time by eliminating the need for repetitive conversations with multiple agents. 33% of people don't like having to make repeat explanations or answer redundant questions; thankfully chatbots are here, ready to help!
5. Privacy Marketing Trends
Customers will need (and want) more control over their data
In the marketing sphere, data is essential to any business venture - from mega tech firms and financial institutions to teenage babysitters. Data has become so precious that not only must marketers ensure its security, but consumers view this information as a crucial part of their privacy too. To succeed in today's market, businesses need more than just savvy sales strategies or customer service skills; they require diligent care over every piece of collected data .
With a world becoming increasingly digital and data-dependent, consumers must be ensured of the protection and privacy of their information. This is why the General Data Protection Regulation (GDPR) was put in place by the EU -- to guarantee that user data remains strictly confidential, securely collected, and respected with regards to rights granted by users. Even though compliance can seem like an extra burden for many companies or organizations at times, it is much better than facing fines down the line if failing to meet these mandates!
Brands and governments are taking steps to empower users by giving them more control over their data. This shift creates both positive and negative impacts for businesses; on the one hand, individuals have greater autonomy but companies may require revised strategies when core sources of information become inaccessible due to user decisions.
Make 2023 YOUR Year
Are you ready to start the year off with a bang and take your business to the next level? At Vested Marketing, we specialize in helping companies like yours maximize their potential, and we'd love to show you what our team can do for your success.
Get in touch with us today – let's get started on making sure your company reaches its full potential in 2023!
---

As a certified HubSpot Partner Agency, we not only understand the benefits of using the inbound marketing platform to increase traffic and engagement, improve SEO, generate leads, design effective websites and boost sales, we know how to make it happen.
We are inbound marketing experts, SEO gurus and top-notch website developers.
Our team of Engineers Turned Marketers can help get you noticed - for a more innovative and effective way to reach customers, or provide a more seamless way for companies to find your services. Inbound Marketing has no limit to industry, serving from Crypto & NFT, mining, oil and gas, technology & automation, engineering, technology, construction, healthcare, industrial & manufacturing, Cajun food & product distribution, and Amazon sales.